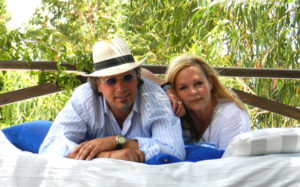 Emanuel und Michaela dos Santos
Carpe Diem!
Our philosophy:
Our romantic hideaways are a refuge for calmness and relaxation and are the ideal starting point to get to know Portugal's country and people. Created for people who value the authentic, enjoy uncomplicated life and leave everyday life behind for a while. Many come as guests and go as friends.
Our Story I: (Published by Algarve Live, April 2006)
From the treadmill to the windmill
Moinho do Pedro, from the 17th century, has opened its doors since 2006, after the existing building tracts have been reconstructed with a lot of attention to detail.
The concept of marketing director Emanuel dos Santos and designer Michaela dos Santos worked. Both of them were subjected to a challenging job every day, they knew only too well what stressed and tense people needed to replenish quickly and find the fresh look for the essentials again.
The idea of ​​creating an oasis of tranquility and creative inspiration high up on a lonely hill with a 360 ° distant view was therefore first and foremost for them and their children.
Only later did they decide to share this particular place with like-minded people. With a lot of fingertip feeling, they managed to rebuild the old, partially dilapidated buildings and premises to their Moorish-Portuguese charm, yet still offer their guests the accustomed comforts to make them feel at home quickly.
Michaela Dos Santos:
"To plan efficiently within the available building floor plans, centimeter-accurate calculations were needed. Many plans were drawn to show the craftsmen our exact idea of ​​the desired shape and symmetry."
This detail is reflected in many accessories. Natural and authentic building materials were predominantly used. Even the old roof tiles were reused in the traditional laying technique.
To unseal the ground, the old concrete terraces were removed and filled with land-typical Calçadas. The tall trees and exotic plants were protected during the construction phase before the work was done, so that the old grown garden was not damaged. At the same time, old natural stone walls were cleared and restored.
Emanuel dos Santos:
"After an intensive construction phase, which we had to deal with daily, we were finally able to hand over the renovated property to our guests in April 2006."
From the old mills building, the adjoining miller's house, the spacious grain chambers and the small servant house, 4 individual guest rooms, 2 comfortable apartments, a spacious suite, a cozy lobby with meeting room, a library, a pool bar and even a small wellness area were harmonically integrated in the existing spaces.
Moinho do Pedro is also suitable for creative workshops, as a cool meeting room for "cool" concepts has been created in the historic mill building behind meter-thick walls.
The individual buildings are distributed on different levels and create a village-like, informal atmosphere with a chill factor and a personalized approach of hospitality.
The many terraces and squares also offer plenty of opportunities to relax and enjoy the well-earned "idleness".
Moinho do Pedro sees itself as a small romantic hideaway, with the pampering character in the foreground and is an example of two managers who have escaped the "treadmill" of Germany made their dream reality.
Our Story II: (Released in May 2011)
"Experience culture and heritage in Lisbon and enjoy pure relaxation in the Algarve." This fascinating combination has been the motivation for Michaela and Emanuel dos Santos, owner and hosts of Moinho do Pedro – a romantic mills community in the Algarve, to offer "best of both worlds" to their guests.
"With the complete refurbishment of two romantic old town villas in the heart of historic Lisbon, we have created a long-cherished dream, an ideal starting point to explore this vibrant city without sacrificing the usual amenities of a comfortable vacation home. An authentic Mediterranean feeling that can never be found in an impersonal hotel, "says Emanuel dos Santos, a Portuguese specialist and " Lisboeta " himself.
"It was a special challenge to preserve the character of the historic buildings while creating an upscale living comfort, but it is this combination that is of special interest to us," says Michaela dos Santos, responsible for the interior and design of Santana 21 and Vila Santana.
Since 2011, the two offer combined packages from one hand, which makes it possible to book the historic Moinho do Pedro mill in the Algarve and one of the romantic old town apartments in Lisbon.
So for instance a 3 or 4 day stay in Lisbon followed by a rental car or train journey (2.5-3h) through the beautiful Alentejo and a 10-11 day stay at Moinho do Pedro is a often booked combination. Or you can experience Lisbon at the end of your vacation. In any case the arrival in Faro or Lisbon can be can be chosen depending on best flight options at your convenience.
For those who want to get more out of their holiday than just to get to know the sun, the beach and the sea, but also to get to know the country of Portugal, Lisbon will be a real enrichment.
Our Story III: (Published in April 2016)
"City, country and sea – Portugal's beauty is so diverse that it is difficult to comprehend it holistically at one vacation spot only."
After Emanuel & Michaela dos Santos opened their historic mill in 2006 in Algarve's beautiful hinterland, and in 2011 also restored comfortable apartments in the heart of Lisbon's old town for their guests, the two now complete the circle with their new romantic beach apartment "Amorzinho do Mar".
The "Sweetheart of the Sea", as literally translated, has a breathtaking location – 10m from the sea. On top of the cliffs of the beautiful fishermans village of Carvoeiro, it is perched above the village and the Atlantic. Like on a yacht, one looks out of the big windows and sees the expanse of the ocean to the horizon. The Atlantic ocean at your feet.
With Amorzinho do Mar, the two former marketing and advertising experts realize a long-cherished wish to add another highlight to  their lovingly restored little Hideaways and to offer a new place with "pieds dans l'eau" – with your feet in the water – for their guests.
Wether in the city, in the countryside and at the sea – to get to know Portugal's most beautiful sides – this is what Dos Santos want to offer their guests.  "Authenticity, relaxed and informal atmosphere as well as pure joy of life for our guests."